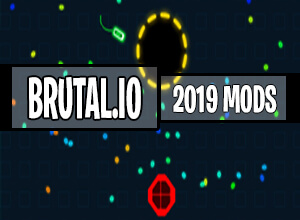 Brutal.io is one of the popular games from the same creator of Wings.io. There are already millions of players worldwide in this game. You also can join this smart 2D game and have fun in real-time. As its name says, Brutal.io is a brutal game that is swinging around a large spike and you will kill everything that comes on your way. In this article, we are going to talk about the general rules of the game and Brutal.io mods.
Brutal.io Game
Brutal.io is quite easy to play but remember at the same time it is tough to master. You just need to click to release the whip and again click to retrieve it. If you will get distracted, green sentinels will steal your energy.
Brutal.io is a fantastic game that is based on 2D physics. Once you start playing, after some time you will begin to develop your smart strategies to get your enemies. Either you crush them on a wall, waiting for them at the entrance of the central area, or a surprise for them in the middle between your car and its whip. In addition, you can use Brutal.io mods to win the game easily.
General Settings for All .io Mods
Zoom IN/OUT
Change Background
Rainbow Background
Show FPS ON/OFF
Adblock Plus+
Private Settings for Brutal.io Mods
Speed Hack
Faster Movement
Auto Spawn
Auto Aim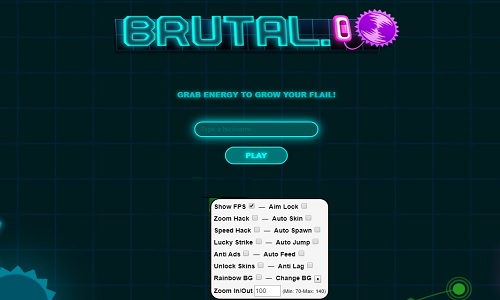 You must have 
TAMPERMONKEY CHROME  / TAMPERMONKEY OPERA / GREASEMONKEY MOZILLA
VirusTotal Scan: Brutalio Mods
How to Install Brutal.io Mods
In order to use Brutal.io mods in the game, you must first select the internet browser where you will play the game. Then, you should install the appropriate script plug-in for your browser by selecting one of the links below. After installing the browser script plugin, you can download Brutal.io mods from our site. Brutal.io mods will be automatically activated when you enter the game after the downloads are completed.
Brutal.io: A Fun-filled Game
Brutal.io is a fun-filled game that you can enjoy on the go with your smartphone. Once you start to play and learn how this game is played, things slowly start to get easier. Your mission is to smash your opponents with a massive spike ball that is attached back of your car. On making skilled turns, you can throw your ball out at your opponents.
If you are looking for the best simple multiplayer game, you should go with Brutal.io. This is the game that you can play on the go. It is way easier to play on your computer desktop PC. You can also use Brutal.io mods to kill other players with extra features which are described above.
Drive A Futuristic Car
Brutal.io is an online multiplayer arcade game in which you will drive a futuristic little car. This car has attached to a plague that can destroy the other players. Explore the map in search of essential material that will increase your weapon and try to kill as many opponents as possible to plus your score.
The goal is, of course, to arrive first of his game. A little time of adaptation will be necessary to take control of your car and use the physical engine of the game to lead the plague, but once the first few minutes pass you will understand how to develop real strategies to overcome your enemies.