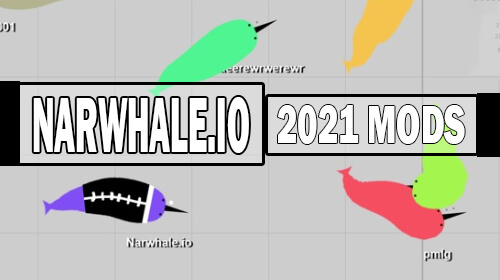 Narwhale.io is one of the popular io games. Narhwale.io is a game where you start the game as a whale or swordfish in the sea. Your goal in this game is to divide other fish players into two and capture their scores. Many people who are not exactly game gamers tend to enjoy a nice and relaxing game every once in a while, mostly due to boredom or something. If you want to have a lot of extra features while playing this game, you should use the Narwhale.io mods plugin.
Most Powerful Whale In The Sea
You need to become the most powerful whale in this sea with other players online. You will have to dodge the enemy whales and cut with your sharp horn the other players to stay within the top positions of Narwhale. In addition, you should be a master of game movements by swimming in this sea full of other whales that will try to cut you in half and eliminate you from the map.
This game will be extremely familiar to those of you who have played some of the other '.io' games, such as 'Slither.io' or 'Agar.io', for example. Agar.io is probably the most popular game out there, and the premise is pretty much the same in all of these games, even if they were not released by the same developer.
Narwhale.io Mods
Zoom Hack
Aimbot
ESP
Auto Turn
FPS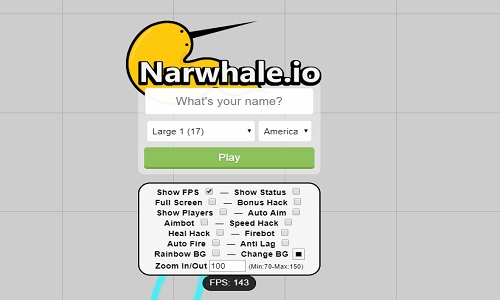 You must have 
TAMPERMONKEY CHROME  / TAMPERMONKEY OPERA / GREASEMONKEY MOZILLA
VirusTotal Scan: Narwhaleio Mods
How to Install Narwhale.io Mods?
In order to use Narwhale.io mods in the game, you must first select the internet browser where you will play the game. Then, you should install the appropriate script plug-in for your browser by selecting one of the links below. After installing the browser script plugin, you can download Narwhale.io mods from our site. Narwhale.io mods will be automatically activated when you enter the game after the downloads are completed.
The News In Narwhale.io Game
Well, the premise is simple, you will play as a narwhale, and your goal is to hurl your enemies and cut them in half. It's as simple as it sounds. This is all you have to do in this game, which is why it is mostly recommended for casual gamers who simply want to play something for a short time. Even though this game is so simple, however, it can be a lot of fun to play.
This game has a slightly different concept than Agar.io, the most popular ".io" game, as you don't have to get consumed by bigger objects in this game, nor do you start consuming smaller objects. You will play against many enemies of the Narwhale.io game, so you have to be very careful. You can choose from different skins in the game specifically for your character in the game. Then, you can have a better gaming experience.
The graphics in Narwhale.io are very simple. This word can be applied to every aspect of this game.