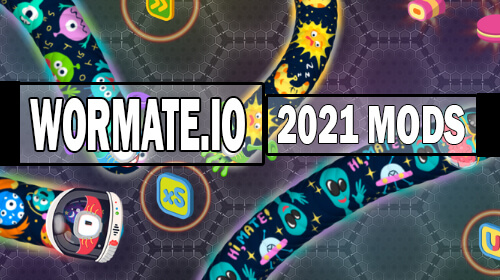 In Wormate.io, you start the game as a small snake. Then you eat the spreading candies on the map to grow your snake and to gain special powers. As your snake grows, you can be stronger and eliminate other players. This game seems quite simple but it requires quite a strategy to play. That's why most players make this game a bit easier using Wormate.io mods and have the chance to collect more points.
Wormate.io and Wormate.io Mods
Whenever you want to get some information about the Wormate.io game then you will once do some research on the Internet. Really, you can once check out and read out all the instructions which would help you how to play it? Now you don't need to be worried because you need to control the snake in Wormate.io.
Whenever you once control it perfectly and will save your snake from other opponents. Then, you can make it bigger and this could be possible when you contain the diet and not only you need to get the simple diet but also pick out the magical dice which reacts to the size of the snake soon. The game is very easy to play but many players want to use the trick as strategy and quick moves are needed. Players who want to use cheat usually prefer Wormate.io mods because it makes the game more fun.
General Settings for All .io Mods
Zoom In/Out
Change Background of Game
Rainbow Background
Show FPS to see your current frames.
Private Settings for Wormate.io Mods
Snake Speed+
Faster Snake
Auto Skin Change
Unlock Skins
Custom Settings
Show Players
Higher Damager
Adblock Plus+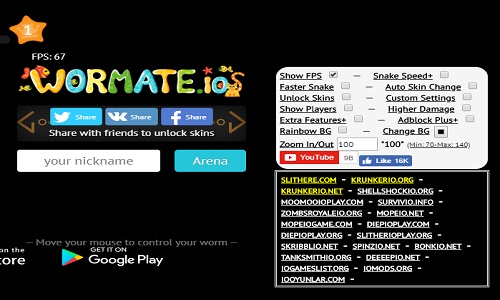 You must have 
TAMPERMONKEY CHROME  / TAMPERMONKEY OPERA / GREASEMONKEY MOZILLA
VirusTotal Scan: Wormateio Mods
How to Install Wormate.io Mods
In order to use Wormate.io mods in the game, you must first select the internet browser where you will play the game. Then, you should install the appropriate script plug-in for your browser by selecting one of the links below. After installing the browser script plugin, you can download Wormate.io mods from our site. Wormate.io mods will be automatically activated when you enter the game after the downloads are completed.
How You Can Make Snake Bigger?
Now you don't need to be worried because you can terms the size of snake really bigger now. This could be possible if you are taking the diet properly and you need to hit other snakes. Whenever you are doing it perfectly obviously you can turn the size of your snake bigger. You can become a winner if you once grow the size of your snake. Even you can develop such interesting strategies in the game which would help you to boost your skills.
Development of strategies couldn't be easy but whenever you are practicing Wormate.io, again and again, you can do it easily and will play more. So you don't need to think twice because you can boost the volume of your snake. You once boosted the size of the sleep you can control other snakes perfectly and kill all of the other opponents to win the game session in such a short time period.
The Role of Delicious and Magical Foods
If you want to check out the significance of delicious food in Wormate.io then you need to play it once. Whenever you are consuming the proper diet in the game then you can be increased the size of the snake. Literally, the game is really good and the controls of this game so smooth and which helps you to control your snake easily. You can protect it from other snakes and will eat all the Magic Balls and such that died which would be given in the game. It is one of the efficient ways which helps you to score a lot. You could be secured more when you once again efficiently without facing so many troubles.