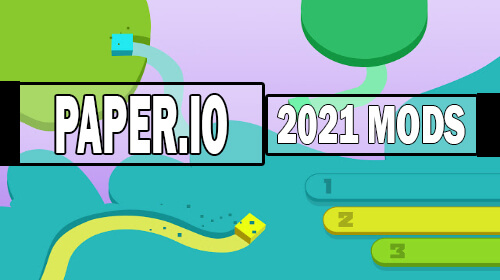 Paper.io is an io game of space capturing on the map and you capture the game areas by drawing on the map. Since this game is a highly competitive game, many players are developing new strategies. Some players may have some additional features using Paper.io mods. With this add-on, it is easier to collect more points in the game.
Paper.io is a fun game of io. This game has addictive mechanics and a beautiful visual section. As much as 'PUBG MOBILE' has been chosen as the best game of the year on Google Play (both by the public and Google votes) and Apple has selected the battle royale genre as a trend in 2018 games, there is no doubt that Drawing-related games have also won a large number of adherents.
How to Start Playing Paper.io?
Once the corresponding data collection permissions have been accepted in the game, you just have to change your name and start playing. The figure that comes by default is a cube, but you will get more as you progress through the game. The color of your cube will vary each game and will be completely different from those of your opponents. It is almost as enjoyable as other .io games at the time. A simple and accessible concept.
General Settings for All .io Mods
Zoom IN/OUT
Change Background
Rainbow Background
Show FPS ON/OFF
Adblock Plus+
Private Settings for Paper.io Mods
Zoom Hack
Speed Hack
Unlock All Skins
Auto Spawn
Auto Turning Bot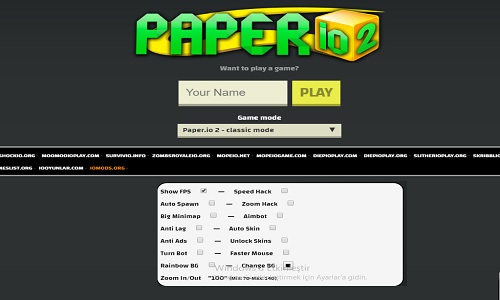 You must have 
TAMPERMONKEY CHROME  / TAMPERMONKEY OPERA / GREASEMONKEY MOZILLA
VirusTotal Scan: Paperio Mods
How to Install Paper.io Mods
In order to use Paper.io mods in the game, you must first select the internet browser where you will play the game. Then, you should install the appropriate script plug-in for your browser by selecting one of the links below. After installing the browser script plugin, you can download Paper.io mods from our site. Paper.io mods will be automatically activated when you enter the game after the downloads are completed.
The Objective of Paper.io
The objective of Paper.io is very simple. You must color areas to make your opponents collide with them and be eliminated. But if you are the one who touches the area created by an adversary, you will lose the game, just as if some enemy rubs in your path the trail that you leave. If you face another player, you will also be eliminated.
As you conquer space, you will naturally make the game more difficult for you, it is quite elegant. Paper.io is defined as a smooth drawing experience. And the truth is that it consists of drawing while you move your finger across the screen.
Paper.io brings to the genre along with the charming and vibrant aesthetics, thus, Paper.io surely a fun-filled and addicting game worth the free download, especially for those .io fans.