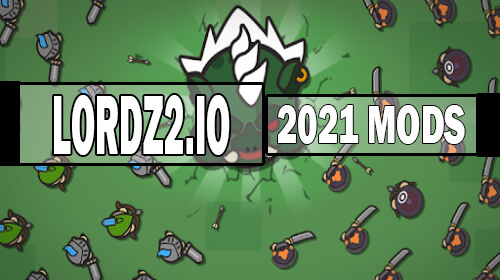 A multiplayer .io game, Lordz2.io is the sequel of Lordz.io. It is an improvement over the original in many ways. This is a strategy game, where you need to use proper strategies to ensure that every soldier really counts. The Lordz2.io game has been created by Spinbot Studio. Add-ons that add additional features to this game are called Lordz2.io mods. These mods provide players with additional features which are.
About Lordz2.io Game
Lordz2.io game has the Middle Ages as its backdrop, during the times of lords, kings, and wizards, and you have to defend your tower at all costs. You are expected to build important buildings and your own castle to provide your army with support, unlock the best warriors and then call different units to give you support during your journey of conquest.
The sequel has a system of heroes comprising special powers.
There are cavalry units, with many new buildings and the ability to unlock many new soldiers.
The walls are a new addition. You can erect walls to keep your base safe from other players.
There is a sophisticated formation system.
There are tons of other new stuff to interest you.
General Settings for All .io Mods
Zoom IN/OUT
Change Background
Rainbow Background
Show FPS ON/OFF
Adblock Plus+
Private Settings for Lordz2.io Mods
Coin Hack
Faster Movement
Auto Heal
More Units
FPS
Adblock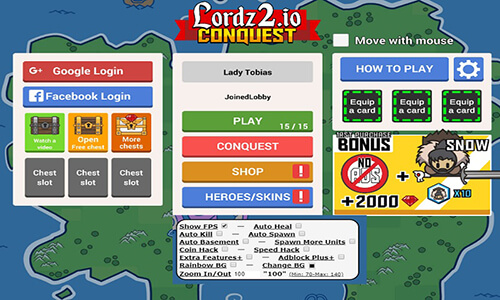 You must have 
TAMPERMONKEY CHROME  / TAMPERMONKEY OPERA / GREASEMONKEY MOZILLA
VirusTotal Scan: Lordz2io Mods
How to Install Lordz2.io Mods
In order to use Lordz2.io mods in the game, you must first select the internet browser where you will play the game. Then, you should install the appropriate script plug-in for your browser by selecting one of the links below. After installing the browser script plugin, you can download Lordz2.io mods from our site. Lordz2.io mods will be automatically activated when you enter the game after the downloads are completed.
What are the Game Controls?
The Lordz2.io game has quite a few controls that you can use easily.
Right Click / E – Activate Power
Click on a building – Attack the building
Click on any area – Attack the closest building
Mouse control / D / S / A / W – Movement
Enter – Open Chat
Space – Split
Esc – Pause Menu
B – Build Menu
C – Change Formation
F – Formation Menu
L – Show Leaderboard
M – Show Mini Map
U – Units Menu
V – Rewarded Videos Menu
Y – Units Upgrades Menu
What are the Game Strategies?
You have to construct a castle first. Once you have done that, you can hire basic units in the U or Units Menu.
You can develop the forge to get upgrades for your unit.
You can erect a stable to get the Monster Den for your Dragons, Academy for the Mages, and Cavalry units.
You can erect Mage Towers or Archer Towers in the Lordz2.io game and get upgrades for them for defending your base. In order to ensure more safety, you can erect a large wall around it.
You have to destroy the buildings of other players to win plenty of Victory Points and Gold. In the Conquest Mode, you can unlock fresh territories in case you win sufficient Victory Points.