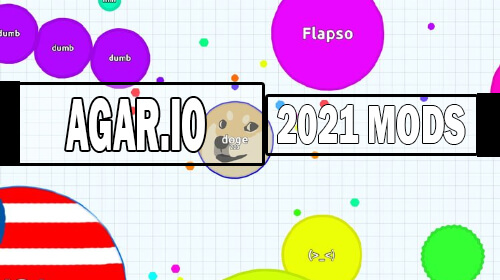 Agar.io game is like a kind of sphere war. In this game, you grow your own character by eating the food around you. When you reach enough size, you must grow by destroying other players. This game is the oldest and most popular of io games. Coin and XP systems are included in the game. You should have enough coins to get better premium potions, skins, mass boost, and XP boost. You can earn coins by winning games. In order to complete the games with a better score, most players prefer to use Agar.io mods in the game. The Agar.io mods provide a lot of extra features to the players which are described below.
General Settings for All .io Mods
Zoom IN/OUT
Change Background
Rainbow Background
Show FPS ON/OFF
Adblock Plus+
Private Settings for Agar.io Mods
Auto Split
Auto Skin
Zoom Hack
Split Hack
Feed Hack
Free Skins
Extra Features+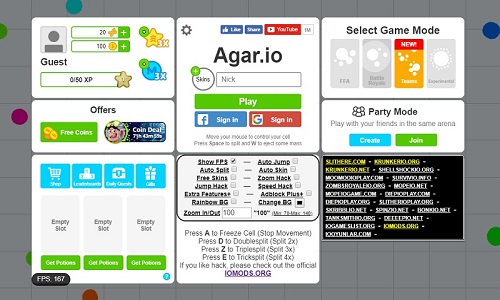 You must have 
TAMPERMONKEY CHROME  / TAMPERMONKEY OPERA / GREASEMONKEY MOZILLA
VirusTotal Scan: Agario Mods
How to Install Agar.io Mods
In order to use Agar.io mods in the game, you must first select the internet browser where you will play the game. Then, you should install the appropriate script plug-in for your browser by selecting one of the links below. After installing the browser script plugin, you can download Agar.io mods from our site. Agar.io mods will be automatically activated when you enter the game after the downloads are completed.
How to Play Agar.io
If you are interested in playing agar.io style games then you need to try the original Agar.io game which is come with the most exciting features. Only you need to go on the official website of the game. Then, you can understand all the details of how to control your ball easily on there and will start playing. The main thing you need to do grow your character. When you once protect your ball from other balls then you can make it bigger and surely you can become more powerful in the Agar.io.
You need to eat all potential balls in the game. Whenever you once get the bigger balls,  your size increased faster. You don't need to give up and if you want to score a lot in the game then you need to try again and again. Then, you can get your ball bigger than other opponents. One of the strategic game which helps you to boost skills while you are playing the game. In addition, some players use Agar.io mods to get more coins in the game easily.
The Strategies for Agar.io
Obviously, you need to use the strategies in Agar.io. Whenever you have developed efficient strategies then you can play the game effectively. So you don't need to think twice because you need to practice with your character again and again This practice would help you to develop some interesting strategies which help you to make your ball bigger. Then, you can defeat all your opponents.
Despite doing all the efforts you will once pay attention to developing the strategy and whenever you once consider it and focus on your strategy then no one defeats you easily. In the game, maintaining a strategy couldn't be easy because other players attack you to get your points. If you want to maintain your strategy then you need to once get control of all the things. When you once control the game easily you can become a winner.
Now you don't need to waste your time playing such boring games because you can once try Agar.io. Really, it is one of the interesting games which will love to play. The game has interesting features and functions which are coin system, skins, and different game types.