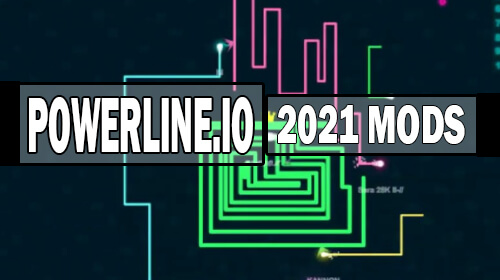 If you are a die-hard fan of classic Snake games and you also liked Tron's bike battles, Powerline.io is the right game for you. The main goal is to collect many power-ups. Thus you will be able to increase the size of your neon snake that can be easily done with the arrow keys. In the game, many players want to beat other players using Powerline.io mods. Powerline.o mods provide players with a few extra features.
But remember! Your snake will die if its head touches another snake or your increasing and glowing body. Moreover, if you slid near another snake, you will receive a speed boost. The game space is quite simple but there are lots of players on the same board. So sometimes it becomes difficult to avoid the traps that are created by their movements.
Functions of Powerline.io
Powerline.io is quite similar to Slither.io. You must kill other players on the board and eat their food to grow. Its main trick is that players will receive a speed boost when you close other powerlines so it is necessary to act as quickly as possible and you need to take other players out efficiently and take other food and eventually become king. In this article, we will describe Powerline.io mods in detail.
Powerline.io Mods
Auto Turn
Auto Aim
ESP
Zoom Hack
Speed Hack
FPS
Adblock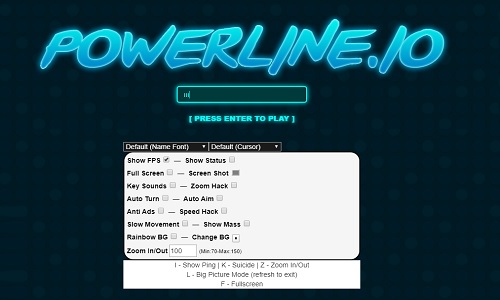 You must have 
TAMPERMONKEY CHROME  / TAMPERMONKEY OPERA / GREASEMONKEY MOZILLA
VirusTotal Scan: Powerlineio Mods
How to Install Powerline.io Mods?
In order to use Powerline.io mods in the game, you must first select the internet browser where you will play the game. Then, you should install the appropriate script plug-in for your browser by selecting one of the links below. After installing the browser script plugin, you can download Powerline.io mods from our site. Powerline.io mods will be automatically activated when you enter the game after the downloads are completed.
Appearance
In the game of Powerline.io, the appearance is a straight line and it always stays straight. The line has a white head at the tip. The color of the powerline randomizes when a player respawns/spawns.
When you will reach more than 2,000 points, the powerline will be thickening, glow, and gain stripes. Since the powerline grows in the size, it becomes hard and slower to maneuver but it can still boost. While playing this game, you can name your powerline whatever you want before they hit enter to play.
Powerline.io – Play in real-time
Powerline.io is one of the most popular internet games. Play this amazing game in real-time with millions of players around the world. It is a modern approach to the classic snake game loved by millions.
Approach other enemy lines, generate electricity, and increase your line to gain an advantage over other players. Powerline.io is developed and created by Andre Almeida in the year 2017 and it was released on 20th October. So far, this game has 6 updates. The most recent update was released on 6th December 2017.
Overall, the Powerline.io game has received positive reviews for its simple and nature but it is surely an addicting concept. This game has average of 15,000 users on a daily basis.