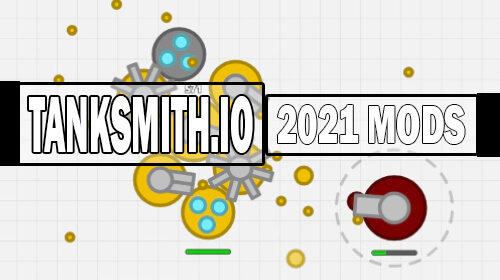 Tanksmith.io is an online tank battle game. In this game, you start the game as a tank. You must improve your tank by destroying other tanks or by collecting the surrounding resources. The number of tanks in the game is quite high and you need to improve your level. Some players use Tanksmith.io mods to improve their tanks quickly. Players who use Tanksmith.io mods have the following features which are auto healer, auto aimer, faster fire, inform giver, aimbot helper, firebot helper.
The Shooting Game Tanksmith.io
There are a number of shooting games which you can get from the internet. If you would love to play the interesting one then you will once play Tanksmith.io. Actually, you don't need to be worried and whenever you once play Tanksmith.io perfectly then you will be paying attention to such tactics which will aid you to play a lot of sessions. You can try this game and if you would love to play this game which has such exciting features then you would be moving your tank and will shoot other tanks to score more. Really, you will be working on the movements of the tank, and definitely, you will win.
General Settings for All .io Mods
Zoom In/Out
Change Background of Game
Make Rainbow Background that changes color every time
Show FPS to see your current frames.
Private Settings for Tanksmith.io Mods
Auto Healer
Auto Aimer
Faster Fire
Inform Giver
Aimbot Helper
Firebot Helper
Adblock Plus+
Extra:
ESC: Kill Yourself,
R Key: Respawn,
E Key: Auto Fire
P Key: Create Party
O Key: Join Party
Buttons: Show Online Players, Find New Server, Create Party, Join Party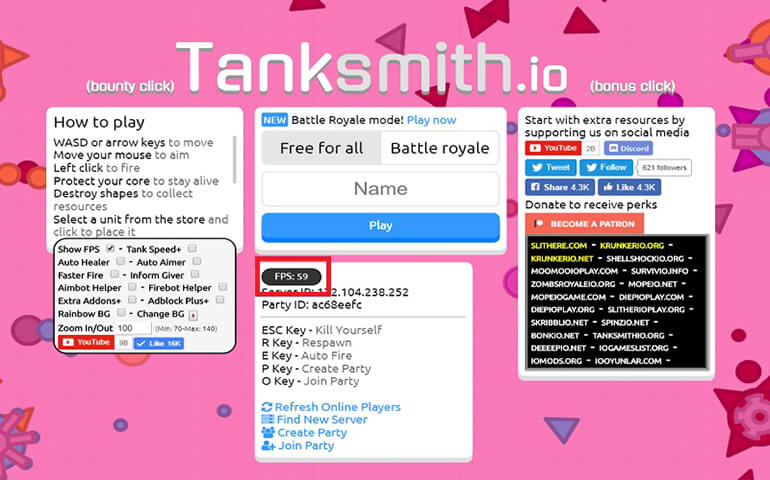 You must have 
TAMPERMONKEY CHROME  / TAMPERMONKEY OPERA / GREASEMONKEY MOZILLA
VirusTotal Scan: Tanksmithio Mods
How to Install Tanksmith.io Mods
In order to use Tanksmith.io mods in the game, you must first select the internet browser where you will play the game. Then, you should install the appropriate script plug-in for your browser by selecting one of the links below. After installing the browser script plugin, you can download Tanksmith.io mods from our site. Tanksmith.io mods will be automatically activated when you enter the game after the downloads are completed.
How You Could Move The Tank in Tanksmith.io?
First of all, you need to understand all the things about the tank and when you are getting it once then you will win the Tanksmith.io game. You can use the right mouse click which helps you to shoot the bullets. You would be moving your tank easily while you are using the keys which are W, A, S, D. So, you will once get all these keys and if you are understanding all of them truly you can get rid of the troubles and will help you to play the Tanksmith.io effectively. Therefore you need to be checked out the movements of the tank. Whenever you once understand it then you could be moved it wisely and still win more and more sessions of the game.
What to Do with Tanksmith.io Mods?
When you have Tanksmith.io mods, you can use the features of Tanksmithio mods. These features are auto healer, auto aimer, faster fire, inform giver, aimbot helper, firebot helper. Playing the game would be boosting your skills and really if you want to play well then you would once try out this tank Tanksmith.io game. Literally, you need to play the tank game and if you love to play shooting games then it is one of the best games in shooting. So, you need to once check out all the tutorials of the game and if you are getting all the things about the game then you would be playing efficiently. This would help you to pay attention to tank controlling and truly you need to use the up, down, right, and left keys which would help you to control the keys. Instead of doing all the efforts, you will once get all the controls and you could understand it better.